Be advised: I only work on registered firearms, owned by appropriately licenced persons or entities. All paperwork is strictly completed and submitted. So if you don't have an appropriate licence or your firearm is unregistered then there is no possibility I can do anything for you.
Rebarrelling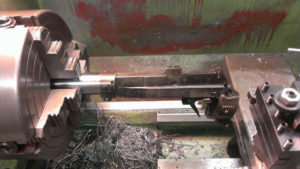 I can offer rebarrelling for most firearms, either by installing newly manufactured prefit barrels or fitting blanks from local or international sources. I carry stock of Mauser 98 (.308 win and 8mm*57), M96 (6.5mm*55), SMLE (.303 British in standard and heavy profile) and No4 (7.62 NATO and .303 British) prefit barrels, and can relatively quickly source your specialized requirements.
I have several profiled blanks in stock.
Sporting, service and target rifles are very welcome.
Bedding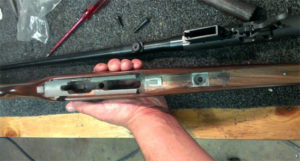 I offer non-glass bedding as well as glass bedding. Most jobs can be done without glass or compound by very carefully inletting critical area to achieve bearing and clearances as required to affect good accuracy. With service rifles this is preferred to maintain an essentially unmodified firearm.
Sometimes for numerous reasons though, glass bedding is preferred, and this is not a problem, nor is it usually detectable when the rifle is assembled. The material I use is a marine grade epoxy resin, thickened with powdered aluminium, and it dries extremely hard and is extremely durable. Pillar bedding is available if desired.
Sporting, service and target rifles are very welcome.
Bluing
I offer both hot caustic and rust bluing. Both provide a good looking and durable finish. For vintage service rifles I typically do a fine glass bead blast and caustic blue, however I am more than happy to do whatever you like in terms of polish and finish.
Bits and Bobs
Fitting of scopes, and open sights, trigger work, patching, repairing, fitting and finishing stocks. Various repairs and modifications. Cheekpieces, target accessory/handstop rails.